Is the picturesque seaside town of Quansett a sanctuary or a death trap? In this lively whodunit series for fans of traditional British puzzle mysteries, it takes a village to catch a killer — led by an ex Fix-It Chick, a Wampanoag pastry chef, and the brilliant reclusive artist-author Edgar Rowdey.
"A real page-turner with many moving pieces, wonderfully fey characters, and delightful surprises throughout. Great Cape Cod color, terrific fun, and a must for anyone who loves to curl up with a good mystery." — CC, Goodreads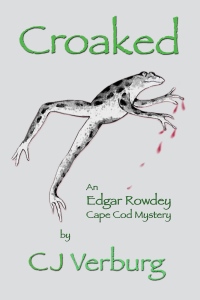 Fleeing from Cambridge, Lydia Vivaldi's sure her luck has turned — until she learns her one Cape Cod friend is dead. How could a skilled carpenter fall off a ladder at a film shoot? When Lydia lands a soup-chef job at Leo's Back End, she's stonewalled by the flirtatious filmmaker and resented by the police. Only Edgar Rowdey, reclusive artist-author of creepy little books, shares Lydia's doubts about the "accident." Can this unlikely pair of sleuths — plus a retired football star, a hippie bookstore clerk, a Wampanoag dessert chef, and a pair of Broadway-musical writers — find out what really happened before it happens again?
Publisher: Boom-Books
Paperback $14.99 at any bookstore or site
E-book $4.99 on Amazon/Kindle, iTunes/Apple Books, Google Play, Nook/Barnes & Noble, Kobo, and others

Click here to read a sample of Croaked
—————————————————————————————-
 "I've read two other books by the author and loved them – although "Zapped" may be my favorite. Verburg is a must for fans of the "smart cozy" and has a wonderful cast of characters I hope to meet again soon." — SJM, Amazon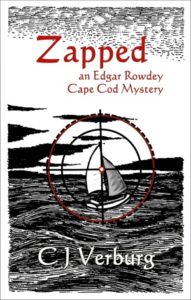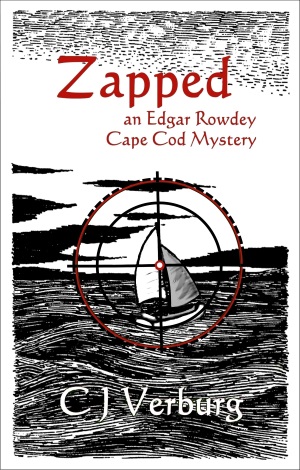 A posh Cape Cod waterfront party. To inventor Pam Nash, it's the perfect VIP launch for Zappa, her new "Taser for pacifists." To her daughter Ashley, it's the perfect celebration for her 21st birthday. To ex-Fix-It Chick Lydia Vivaldi and Wampanoag dessert chef Mudge Miles, it's a catering job they can't refuse. But when they learn Ashley's trying to lose a cell-phone stalker, and a sailboat disappears, and Lydia finds a dead reveler floating by the dock, it's time for artist Edgar Rowdey to switch from reclusive genius to sleuth.
Publisher: Boom-Books
Paperback $14.99 at any bookstore or site
E-book $4.99 on Amazon/Kindle, iTunes/Apple Books, Google Play, Nook/Barnes & Noble, Kobo (or use IndieBound to buy the e-book via Kobo from your bookstore), and others
Click here to read a sample of Zapped