by CJ Verburg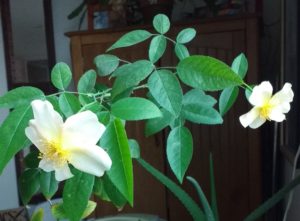 Rosa Mutabilis (Chinensis): one of my favorite flowers, from the SF Botanical Garden's wonderful plant shop. Yesterday, after weeks, two green teardrops swelled into tight yellow buds. This morning I woke to these pale yellow flowers. Over the course of today they'll blush toward peach, then turn sunset-pale pink. By tomorrow they'll be a deep, vivid cerise.
In celebration, I made Ceylon tea in one of my favorite mugs, one that Edward Gorey designed to celebrate a technological advance in ceramics which delighted him. Heat sensitivity! A longtime master of secrets, suspense, and revelations, suddenly he could create a 2-stage object whose illustration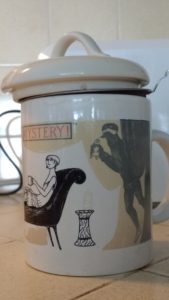 (a lady enjoying tea on her recamier, framed by a black curtain) changed with the addition of hot liquid (the curtain vanishes to reveal a yegg snatching a statuette from her side table).
Theatrical magic! In the years we staged plays together on Cape Cod, a reliable offstage drama was the annual changing of the seasons. Every fall the green leaves of summer turned red, yellow, and brown and dropped off the trees, leaving behind a bleak landscape of vegetation so relentlessly taupe, and lacy branches so fragile, that one marveled at their ability to produce that vanished profusion of life.
It was Massachusetts' frigid winters that dispatched me to California after Edward died. Every year I'd told myself: If it doesn't get any colder than this, I'll be OK. And then it did. Almost as stifling as the cold, though, was the loss of color. I cannot agree with the snippet of Shakespeare in this morning's e-mail from the Globe Theatre in London:
'At Christmas I no more desire a rose
Than wish a snow in May's new-fangled shows,
But like of each thing that in season grows.'
Love's Labour's Lost (Act I, scene 1)
I always yearned for roses! It struck me as miraculous that I could board a December flight from BOS to SFO and disembark into 360-degree color. And as much as I admired the stoicism with which Edward Gorey and most of our Cape friends endured New England winters, I wish I could give him a cutting of my Rosa Mutabilis. He'd love watching its slow transformation, like the lady and the yegg.