From his boyhood in Chicago, he was fascinated by theater. Once he got out of the Army, Edward Gorey launched half a century of artistic escapades onstage and backstage.
This full-color print and e-book is full of rare drawings and photos, stories, music, video, and website links. Scroll down to read a sample.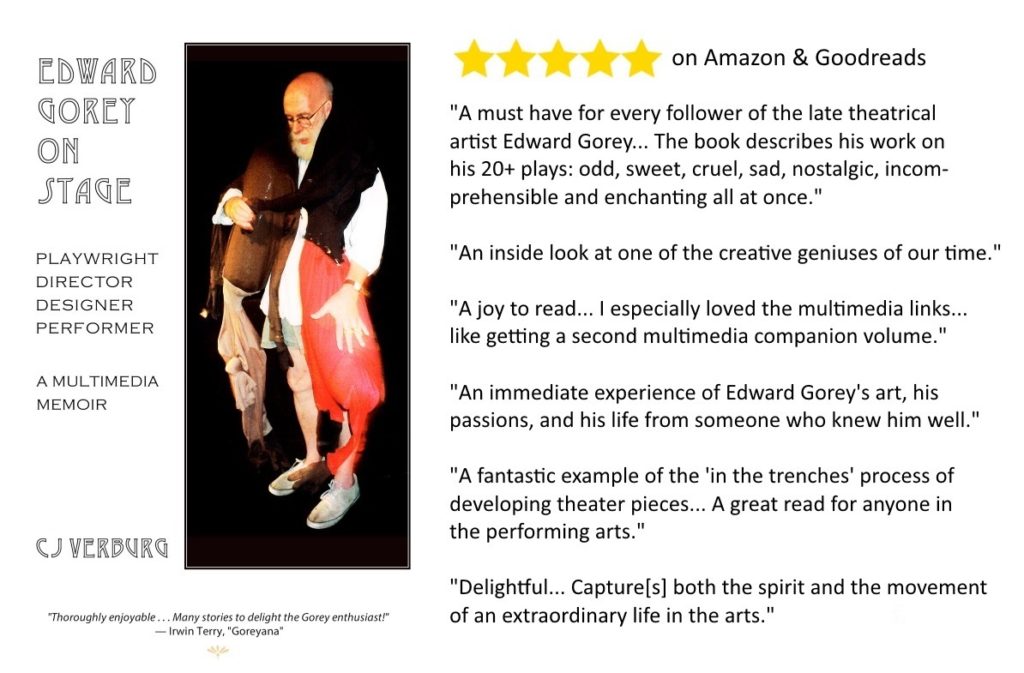 Ask your local bookstore or buy online: print $14.99; e-book $5.99 on Amazon, Kobo, iTunes/AppleBooks, GoogleBooks, Nook/Barnes&Noble, and other e-outlets.
Read a sample:
Prologue
How to categorize Edward Gorey? A writer with a flair for drawing? An artist who also told stories? A distinctive book designer and illustrator? A maker of odd ephemera, from beady-eyed beanbag animals to esoteric playing cards? A godfather of Goth? A sine qua non for Tim Burton, Lemony Snicket, and other macabre-minded line-straddlers? Twelve years after his death, booksellers still debate whether to shelve Gorey's elusively plotted, obsessively penned little books under Art, Humor, or Children's.
One label that's rarely proposed is dramatist. Yet ever since he arrived at Harvard University after World War II, Gorey's stories have popped up persistently onstage. Starting in the late 1980s, when he moved full-time to Cape Cod, theater encroached on his creative life to the point of engulfing it.
In person—over lunch at Jack's Outback, for instance—Edward Gorey was as hard to pin down as his work. He had a staggering ability to shift focus from a film he saw thirty years ago to today's menu to last night's episode of "Third Rock from the Sun" to Schubert's repetitions to Roman coins under Trebonianus Gallus. Every subject seemed to fascinate him, although you couldn't be sure, since he talked about each of them with the same acuity of perception and utter nonchalance of tone.
Being hard to pin down extended to new projects. Edward hated to say no. Rather than refuse a job, he'd either ignore it or claim some other obligation he couldn't get out of. You formed the impression that, like his hapless characters, Edward Gorey  was perpetually being stalked by unseen threats. Even when it was clear he'd lavished enormous care on a drawing or story, he acted as though it had ambushed him—leapt on him from an overhanging branch and dragged him into the shrubbery. Ask him why he'd written this or that book, or what projects were on his drawing board, or even which had come first, the elephant on wheels or the woman standing under it, he was likely to mutter "Oh, I don't know," and wave a heavily be-ringed  hand in vague embarrassment.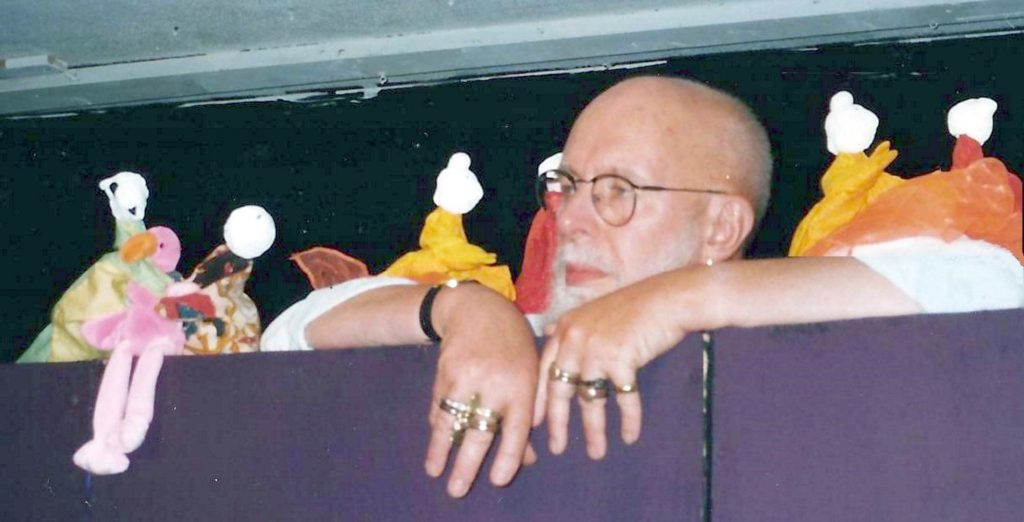 Also available:
Edward Gorey Plays Cape Cod
, a short paperback which originated as a catalog for an art exhibit at the Edward Gorey House museum in Yarmouth Port. It describes the twenty-odd "entertainments" he wrote, directed, produced, and occasionally performed in during his last dozen or so years.