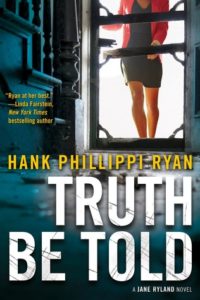 Hank Phillippi Ryan: Truth Be Told
It took me 2 tries to read this #3 in Ryan's Jane Ryland series. Truth Be Told is half police procedural, from the POV of preppy Boston detective Jake Brogan, & half mystery, from the POV of mostly-TV journalist Jane Ryland. I hadn't read Book 1 or 2, but it's obvious that Jake & Jane are entangled in a conflicted, passionate affair — very distracting to them, & also to me. I shy away from series that center on the characters' personal problems, particularly doomed romances & maddening bosses. Unfortunately, this book overflows with both. Fortunately, the plot ratchets up fast to a gripping, compelling pace, while the POV jumps from the star-crossed lovers to several intriguing secondary characters. Within 25 pages, I was hooked.
What first drew me to Truth Be Told was the good things I'd heard about its author, Hank Phillippi Ryan (who I didn't realize is a woman). What made me give it a second try was Ryan's focus on the heartbreaking mass (and MA) evictions that followed the late-2000s recession. Just as horrifying as the book's multiple murders are the multiple lives ruined by greedy, deceitful banking practices. A hardworking homeowner thrown out on the street for no fault of his/her own is a desperate person, & Ryan does a fine job of depicting the murky borderland between greed, desperation & violence.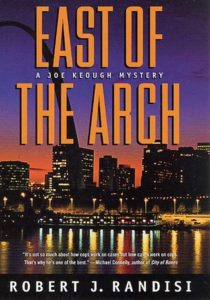 Robert J. Randisi: East of the Arch
When I learned I was going to be on a panel with Robert Randisi at Killer Nashville, I grabbed the first non-Western, non-RatPack novel of his I could find. This one, a police procedural, hooked me right away. The man (an expression he uses a lot) has written 500 books — published at least 1 a month since 1982. Like a good TV-series writer, he knows how to get the job done.
East of the Arch gives us the right ingredients in the right order: a young woman's mutilated body spewed up by the Mississippi River; an inexperienced but hardworking local detective (often referred to as "the black detective," which I found jarring); more bodies; a serial-killer expert from a larger police force brought in to take over the case (Joe Keogh, a recurring series character transferred to St. Louis from Brooklyn); a resentful sergeant, an egocentric mayor, & all the high-stakes pressure & infighting that set-up enables. We first meet Joe getting out of bed with a woman, which also sets up his perennial conflict between work & any kind of private life.
Interestingly, Randisi starts stepping in & out of the killer's point of view fairly early in the book. Given that a serial killer is by nature difficult or impossible to empathize with, this helps make the story a plausible duel rather than a good-vs-evil cliche.
East of the Arch is very much in the "guy" noir tradition: men battle in the arena (police stations, bars, cars); women flutter around the edges helping or interfering. It's gripping while you're in it — the prose, characters, & plot all workmanlike & sometimes witty, but unpolished — & forgettable afterwards.
https://www.goodreads.com/review/list/7112246-carol